Under Screen Cleaning was first introduced as to remove smearing of paste after a number of cycles in the underside of stencil/screen. On older and some semi automatic printers, manual wipes were used as means of cleaning by production operators. As time passed the fully automatic printers flooded the market and have had the Automated Under Screen Cleaning systems (USC) introduced. Variations are there for an Under screen cleaning system but the overall strategy and concept is to use fabric rolls/fabric wipes to remove and clean the stencil/screen's underside. Software and hardware processes are used to enhance the cleaning. This actually includes chemical, for eg., solvents or IPA also known as isopropyl alcohol sprayed onto the paper rolls and as well as usage of vacuum underside cleaning which is attached to the cleaner connecting from the outside. The cleaning actually takes place by the USC being driven out towards the egde of the stencil/screen or in some printers the stencil/screen drives across the USC system itself.
R2R has tested, sampled and has spend thousands of dollars running hundreds of evaluation to come up with the best fabric material that's very effective in cleaning and meets the trend of current finer pitch apertures. We have tested these fabric materials for ultra low lint and made sure the fibers are not left behind after cleaning. Absorbency tests were also conducted.
R2R's under screen cleaning wiper rolls are remarkably a high grade fabric fibers imported from Canada and Indonesia. The high strength, hydro-entangled blended material (see picture below) used is proven to have left NO residue behind.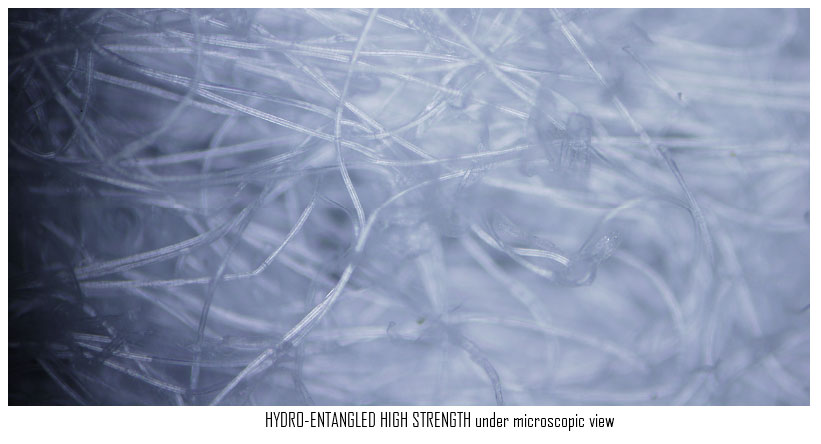 Under some circumstances, our customers do their own tests and evaluation for their internal acceptances. We have assisted them on similar practices before they are passed on to their respective production lines.
The history in solder paste printing stencil cleaning just does not end here, it has no end to it so as years passes we have to enhance and maintain the high standards and quality and at R2R we do. For more information on method of cleaning and its processes do also read about IPC 7526:2007 | Stencil And Misprinted Board Cleaning